Crossed Spears: The Fight for Culture and the Amazon
I've allowed myself an exception to the rule with respect to this story…not because I like to break self-imposed regulations, but because I listen. A little explanation if I may…
The goal of OYOW is to celebrate people and culure around the world. Problems, politics, and issues will always exist  but the focus here is to highlight the positive, the beautiful, and that which would perhaps inspire and/or allow us to have a better and more accurate understanding of our global community, especially as it pertains to culture, as it is today. I could have produced a piece on the fact that the Huaorani people are incredibly skilled hunters, extremely knowledgable when it comes to the jungle and all things natural, or the fact that they are fascinating individuals who live, and have always lived, in one of the most stunning places in the world. Instead (based on my conversations with the community) it became clear that  this piece was to serve as a reality check and a reminder that people need to be heard…
About an hour or so before sunrise the morning after my arrival in Quito, a few couples and I embarked on journey that (I think it is safe to say) we will not soon forget..although we all had our personal reasons for being there, we all shared the same sense of curiosity and intrigue upon arrival at a tiny airport in the small town of Shell (yes, named after the oil company).
We split into two groups and piled into tiny aircrafts. I'll admit, I was nervous as I walked towards the plane with my gear…not because I am afraid of flying, but simply because I've always been weary of what many jokingly refer to as "tin cans with wings."  Fortunately, this was nothing like what I expected. We soared comfortably, with my eyes wide open, over the most breathtaking scenery I had ever seen – the dense, pristine, and lush canopy of the Amazon Rainforest located in the lowlands of Ecuador.
After an eight hour drive from the highlands of the Capital and a 45 minute flight, we arrived on Waorani territory on a thin opening of grass (the landing strip) with nothing short of an incredibly warm welcome from the local community. The women and men wore beautiful beaded necklaces crossed over their chests, and the children, traditional skirts and shorts made of tree bark and feather crowns on their heads. This little boy, whose name I unfortunately forgot, had a look and intensity in his eyes that to me,  somehow captured the strength of the Huaorani people I had read about and, finally got to meet.
It is here that we had our first taste of Huaorani (Waorani) culture.
I had read about Chicha, and in fact have thought about it in Panama when I inquired about meeting with a tribe in the Darien province. "Would you be able to drink it…to stomach it?"  I was asked. I remember contemplating the question: "So women bite off a piece of a yucca root, chew it, spit it out into a bucket, let it fermintate for five days, and then, drink it.." I pondered. It was just a thought back then, but when we arrived on Waorani territory, it was a gesture. Thrust into a realm of reality, drinking Chicha suddenly felt less foreign, less shall we say, stomach twisting…and with the local tribesman, we did in fact, share a bowl of this traditional beverage…and yes, it was special.
Led by our incredibly knowledgeable guide Xavier and our Huaorani leader we then made our way further into the forest by foot. The leaves grew larger, the trees got taller, and our surroundings became much denser. From bright red flowers, to intertwining wines, to movement in the bushes, one set of eyes never seems to be enough…
Just in time for dinner, we arrived at the Waorani Ecolodge, a charming, tiny village like base camp that would become our home for the following five days. I fell asleep, comfortably tucked away in my cabin to the sound of life…
I woke up refreshed and eager to be with the community that I had travelled here to meet…and as promised, we did just that.
There are so many wonderful things to share about the Huaorani community…like the fact that they can name and identify every single plant and its uses, its dangers, and its benefits, and that they utilize natural material in the most efficient ways, methods that would make anyone question why we bother with synthetic and chemically manufactured products. Life is pure in the Amazon…it is respected, and beautifully balanced to say the least.
From edible plants, to ones that serve as makeup, and to those that heal, the profound knowledge and understanding of nature that the Huaorani possess is without a doubt an extent that only the people who have lived here for centuries would know.
I came here to learn about Huaorani culture, but the more time I spent talking with the community and listened to the stories of its elders, the more I realized that they were struggling with a pressing issue – one that has haunted them for years, that cast great misunderstanding with respect to the tribe, and a theme that somehow managed to play itself out in two completely different scenarios. It is the notion of intrusion, of unwelcome visitors that threatened the community with complete cultural extinction. First by Evangelical missionaries in the mid-1950s, and very soon after, by oil companies that have since been exploiting the oil located beneath the Amazon basin.
So while there is much to be learned from the Huaorani people, the love and the wisdom that they hold with respect to their culture and land, "Crossed Spears: The Fight for Culture and the Amazon" however is a story that needed to be told…
You can view it here (a version uploaded in low quality from the Punta Burica peninsula in Costa Rica, or wait for the high res version that I will post shortly).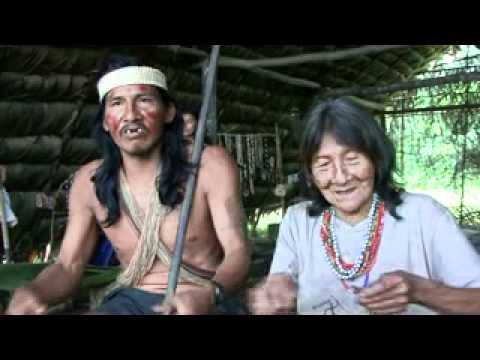 My most profound thank you to Everyone who helped make this story possible!
 Especially: Juan Verdesoto, Xavier and Jose of Tropics Ecuador, all the wonderful staff and community at the Waorani Ecolodge, William Vizcaino for his hospitality in Quito, Kyle Snowdon for donating his frequent flyer miles, Cherry Chen, Nick Cairns, Isabelle, and Yannick for your donations, Pat Gleason and Jasmine Virani for taking such great care of my beloved Lolz, William Thompson for the travel pack goodies, and of course to my family and friends for your ongoing support!!!
FOR MORE PLEASE VISIT: